What is Email Phishing and How to Avoid It?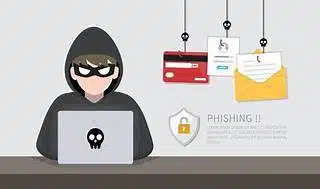 Email phishing is a type of cyberattack that aims to trick you into giving away your personal or financial information, such as passwords, bank account details, credit card numbers, or identity documents. Phishing emails often look like they come from legitimate sources, such as your bank, your online service provider, or a government agency. They may use logos, names, and addresses that seem familiar and trustworthy. However, these emails are actually sent by hackers who want to steal your data and use it for malicious purposes, such as identity theft, fraud, or ransomware.
How does email phishing work?
Phishing emails usually contain a link or an attachment that directs you to a fake website or downloads a malicious file on your device. The fake website may look identical to the real one, but it is designed to capture your login credentials, personal information, or payment details. The malicious file may install malware or ransomware on your device, which can damage your data, lock your files, or spy on your activities.
Phishing emails may also use various techniques to persuade you to click on the link or open the attachment, such as:
Creating a sense of urgency or fear, such as claiming that your account has been compromised, your payment is overdue, or your service will be suspended.
Offering a reward or a benefit, such as a tax refund, a lottery prize, or a discount coupon.
Pretending to be someone you know or trust, such as a friend, a colleague, or a boss.
Asking you to verify, update, or confirm your information, such as your password, your address, or your payment method.
How can you spot and avoid email phishing?
Phishing emails can be hard to detect, especially if they are well-crafted and sophisticated. However, there are some signs that can help you identify and avoid them, such as:
Checking the sender's email address and the domain name of the link. If they are different from the official ones, or if they contain spelling errors, typos, or random characters, they are likely to be fake.
Hovering over the link or the attachment before clicking on it. If the URL or the file name is suspicious, do not click on it. For example, if the link is supposed to take you to PayPal, but the URL is something like pyapal.com or paypal.security.reset.com, it is a phishing attempt.
Looking for grammatical, punctuation, or formatting errors in the email. Phishing emails often contain mistakes or inconsistencies that indicate a lack of professionalism or authenticity.
Being wary of unsolicited or unexpected emails that ask you for personal or financial information, or that urge you to take immediate action. Do not reply to them or follow their instructions. Instead, contact the sender directly using a different channel, such as a phone call or a verified website, to verify the legitimacy of the email.
Using a reliable antivirus software and a firewall on your device, and keeping them updated. These can help you detect and block phishing emails, malicious links, and malware.
Reporting any phishing emails that you receive to the sender's organization, your email provider, or the relevant authorities. This can help them take action against the hackers and prevent further phishing attempts.
Email phishing is a serious threat that can compromise your online security and privacy. By being aware of the common signs and methods of phishing, and by following the best practices to protect yourself, you can avoid falling victim to this type of cyberattack. Remember, if an email looks too good to be true, or too bad to be true, it probably is.